Update – October 8, 2013:
(Please note: To keep abreast of our ever-evolving events, some past Updates are included herein or linked below.)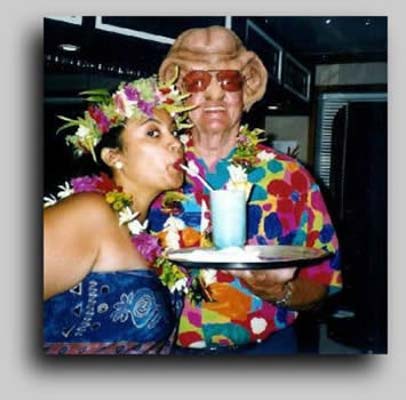 Having fun with a Ferengi aboard the
Windsong
in Tahiti, 1997.
Hey, CT Seine Family travelers and CT British Isles Cruisers!
(The following is a compilation of eMails sent over the last week or so.)
Get'n close!!
Hopefully you have already received your documents. All were shipped out by USPS via priority mail boxes on Monday. I have heard that some of you have even been seen doing a happy dance with these boxes!
In any case, before the weekend was over, we wanted to get you our schedule for Geneva, Switzerland & CERN, on board the Amalegro, and for magical Paris after our cruise. All is pretty self explanatory. . . though again, please print out and bring with you on your travels. With much appreciation to Dee for her professionalism & very steady eye on finalizing all of this.
Please note that a slight computer glitch has noted a few cruise-list names as Ms. or Mrs. and could be incorrect with either of these titles. Please be assured that the manifest will show the correct names and titles, so please do not worry.
In any case, our CT schedule with pre-cruise Geneva/CERN & post-cruise Paris details with be eMailed soon as well. We are still awaiting a few final issues. This is also in effort to send you only the most complete and hopefully not too changeable schedule . . . . . even if informal, casual and flexible on board. More importantly, after you receive this schedule, please print it out, place it in your travel file, and bring it with you.
And as I started writing this, I heard from our Cruise manager. Besides saying that he is very much looking forward to seeing us once again, he asked me to remind us all that it will be "English weather not Provence!" So, as you will read in the schedule info we will send, please remember to pack lighter than you would for a big ship. With that, please know we have another nice fleece garment coming to all of you. . .
Hey hey, though – we are away again for Halloween!! And a late night PJ/Slumber party will both necessitate appropriate wardrobes. . . It's up to you. . .
Our train ride from Geneva is over lunch time. The train may have limited food. So, if need be, you may want to bring something along. Food will be available at train stations, but only munchies upon boarding our ship. And so then our next full meal will be at dinner time, about 7pm.
And to our CT British Isles folks . . . .
Many of you have been asking about hotel accommodations for London prior to our sailing from Harwich on Monday, July 14, 2014. In any case it looks like we found a very good option at a fair price.
Famous British landmarks, left to right – The Beatles Story in Liverpool, England; St. Stephen's Tower and Big Ben; and St. Paul's Cathedral.
Image courtesy of Pavel Issac and webmaster Cheryl Morris
Up to 3 nights (Friday, Saturday & Sunday) prior, we have rates starting at 165 GBP including VAT. For longer stays, the rate will increase. Because the rate is very, very good and so we do not want to draw too much attention, less the price go up. . . we would like to offer only the following description:
This Hotel is a traditional deluxe four-star hotel in central London. Moments from Buckingham Palace, the Houses of Parliament, the London Eye and Victoria Station, the hotel could not be better positioned for your business and leisure needs.
Basically a great spot for a great price!
So, due to pricing and the fact that we will be out of the office for some time this fall, we have somewhat of a sense of urgency for those who wish to reserve hotel stays with the group in London prior to our British Isle cruise in July 2014. Therefore we ask that you communicate ASAP to us via an eMail or phone call the number of nights requested, bedding requirements, and or any other pertinent information.
Most importantly is that we receive a credit card number to make your reservation. Of course, you will not be charged for the hotel stay until check-out.
And not to worry, we can change the reservation if need be. . . just have to hope the rate sticks. . .
However, you can also take a deep breath as we have, as a precaution, already tentatively held many rooms by request or by guesstimate on our part. And even if you do not catch us before we leave, we will be in touch via eMail.
Since we were not focused on post-cruise hotel stays in London, we forgot to mention that the cruise line has a 1PM cut-off time for flights on the day of disembarkation. Please do not book a flight home before that time. And just as an FYI, we are flying back to the States on disembarkation day!! And we will already be in London for a previous British Isles sailing for Insight Cruises. At least we'll get to know how they drive on the "wrong side" much better!!
If you need assistance with a post-cruise hotel stay, you can advise us of same.
The CT Traditional Bon Voyage party the night before the cruise, tours on Saturday & Sunday, and transfer information will be sent after compilation.
And more good news – we have our first guest! Long-time CT family member, Emmy Award winning Visual Effects, and all around good guy Ron Moore is now scheduled to sail with us on the CT 14 British Isles cruise. Welcome aboard, Ron!
Always Safe Travels,
Charlie
Charles C. Datin, Cruise Trek
Mail to – PO Box 4277 Malibu, CA 90264
Phone – (310) 456-7544
Website – www.cruisetrek.com
SKYPE – cruisetrek
Email: cruisetrek@aol.com
---
Update – June 10, 2013:
Hey there, Cruise Trek Family!
I hope this Update finds you all very well!
Before I proceed to our two future Cruise Trek Adventure announcements, I first wanted to share a few "housekeeping" things with you. The first one is easy – we no longer have a dedicated fax line. In these more tech-advanced days, it seems that most folks simply don't even use them anymore. For us anyway, email and attachments are certainly the way to go. However, there sure seems to be a lot more scamming or phishing of email addresses and other things going on in this highly electronic age. . . Guess that is just life. So, please be careful.
The second thing is that while most of you know already, for many weeks of the year we are out of town/country executing events for other companies and/or we are just outside having fun, living life, and/or swinging a hammer or a weed-whacker! ;-)) In any case, we sincerely appreciate your patience with us in getting back to you. With email & cell phones (I just picked up my very first smart phone!), it is pretty easy to stay in touch anywhere we are.
So, as another FYI and if you have a chance, check out Insight Cruises. This fall, we get to do two events for this company: Scientific American/Mac Mania on the Rhone River and then a Shakespeare-themed cruise event round trip from Athens to many ports in Turkey. . . Then not to mention the Seine with our CT family! If anyone ever wants to join us on one of these. . . please contact us first!
Also, just to let you know, we will be at the Creation Convention in Las Vegas this August. . . The better part of this outing is being able to stay with Ron & Barb Moore in Vegas. . . luv them!! Plus, Ron will be at our table in the dealer's room, offering to autograph his new book about his career as an Emmy Award winning Visual Effects guy. Did he not show us some really cool video on the Hawaii cruise this last fall!? ;-)) Also, I think more of our family of actors will stop by the table to say "Hi" as well. . . like the other "boys" from the Blues Band. Anyway, I hear they may do a song or two just for us?! Of course, I am sure we will be greeting many other CT family members. Looking forward to it!
Now to our future destinations for 2013 & 2014: Most of you know about the Seine River Cruise & CERN trip this October 23/25 - November 3, 2013.
~ Cruise 2013 Guests On-Board So Far ~

Dominic Keating
Lolita Fatjo
And in this Update, we are also announcing our Cruise Trek Adventure for July 14 - 24, 2014 to the British Isles!! This has been a popular destination request, and well, the timeframe will hopefully allow those with school schedule sensitivities to attend as well!! We'll have exciting pre/post cruise tours & hotels available. . . More to follow in future updates. Let's explore London and/or the vicinity together!
Both of these future events are totally new & original adventure destinations for Cruise Trek. . . The Seine River cruise sails round trip from Paris, France, with a very Scientific-based side tour to Geneva/CERN (the world's largest particle physics laboratory). And now for 2014, we sail the British Isles round trip from Harwich, England!! The 2014 event includes stops in Ireland, Wales, Scotland, England, and Le Havre, France, for another chance to see magnificent Paris!
You can find out more about our fabulous itinerary for CT 2014 on our "British Isles Intrigue" page.
You can find out more information about booking CT 2014 to the British Isles on the booking information sheet.
To keep this portion of the Update a little shorter, please see additional itinerary information for CT 2013 on the CT 2013 booking information sheet. More importantly & the good news now is that we have some cabins available once again! So, please give us a shout-out ASAP to see if we can get you aboard this wonderful & historic adventure! Or simply send us a booking form, and we'll get back to you regarding your cabin booking request. PS – Inventory does seemingly change quite often. Most of us on board for 2013 are participating in the CERN Science & Education addition.
Of course, the "icing on the cake" for our events is the guests who are interested in coming along. . . Dominic Keating & Lolita Fatjo are still on board for 2013. . . But, as you know with busy lives. things can change. Though again for Cruise Trek 2013 & 2014, we have loads of actor interest. . . Hawaii was too much fun, and I think the word has spread!! ;-))
For wherever your life & journeys take you. . . safe travels always,
Charlie
---
Update – Mar. 16, 2013:
Hey, Gang!
Just thought I give you all a shout out. . . especially since we just returned from a month long Insight Cruises event in South America. Wow – First time I have ever been there. . . and indeed I would go back in a heartbeat! ;-)) It was just beautiful and a huge culturally enlightening experience! And we had on board this cruise a top physicist who works at CERN. . . hoping he help us with our tour?! We'll see. . .
~ Get In Touch with Cruise Trek ~
Mail – PO Box 4277, Malibu, CA 90264
Phone – (310) 456-7544
SKYPE – cruisetrek
email:
cruisetrek@aol.com
Anyway, so we are behind in paperwork. . . but, we'll get caught up. . . appreciate the patience. . .
So for this fall, the Seine River cruise is shaping up nicely! And well, we just wanted to let you know that we can arrange airfares through the cruise line for you guys if you so choose. . . The fares so far have proved to be pretty good. So, if you desire this airfare assistance. . . please send Aaron an email at aaron.cruisetrek@gmail.com with your travel dates in mind and he'll get back to you.
Besides the fare, CT will add a $50 airfare fee. Sorry about this – but this day & age, fees for airfare are not atypical. Well, plus it is a ton of effort. . . though we will leave it up to you to obtain your seats, apply FF numbers and/or to order any special meals if available. . . The good thing is that depending upon your schedule requested and other mitigating factors transfers are sometimes if not mostly included as well. There is a little back and forth in this process for airfare so again we appreciate the patience. And the deposit for the airfare is $350. . . which is non-refundable after confirmation.
Balance is due upon full payment date. In any case, please let us know if we can help on airfare. . .
The other cool thing is that our dear friend Lolita Fatjo with her lovely man, Jim, are sailing too! Plus, it looks like Dominic will join us again as well. AND it appears that we'll have our very favorite AMA Waterways Cruise Manager, Peter Whitehead back with us. . . Of course, both of them are subject to change. . . but, we do have great options if it does change. . . like another actress who actually lives in France and another CM that lives in Europe. . . so, all will be as serendipitous as ever! ;-))
Oh yeah. . . as most of you know for the Seine River cruise, space has been very very tight for quite some time. . . but, we may have a Trek Share or cabin pop open. . . So if someone else wants to go. . . please get to us with a booking form ASAP. . . Upon receipt of a BIS, we won't book you until we know exactly what category is available and then we will confer with you the details for you to decide yea or nay. Easy. . .
Oh yes, even more news is that we are working on CT 2014. . . We have the destination, the date. . . and we just signed contracts with a cruise line. . . So, info is coming soon! Shhhhh! ;-))) Not South America though this time. . . but, someplace with popular demand! ;-))
Be well & Travel Safe. . .
Looking forward to seeing you all once again. . .
Best regards,
Charlie
---
First page of past CruiseTrek Updates