Essence & Perspective of the
Cruise Trek Family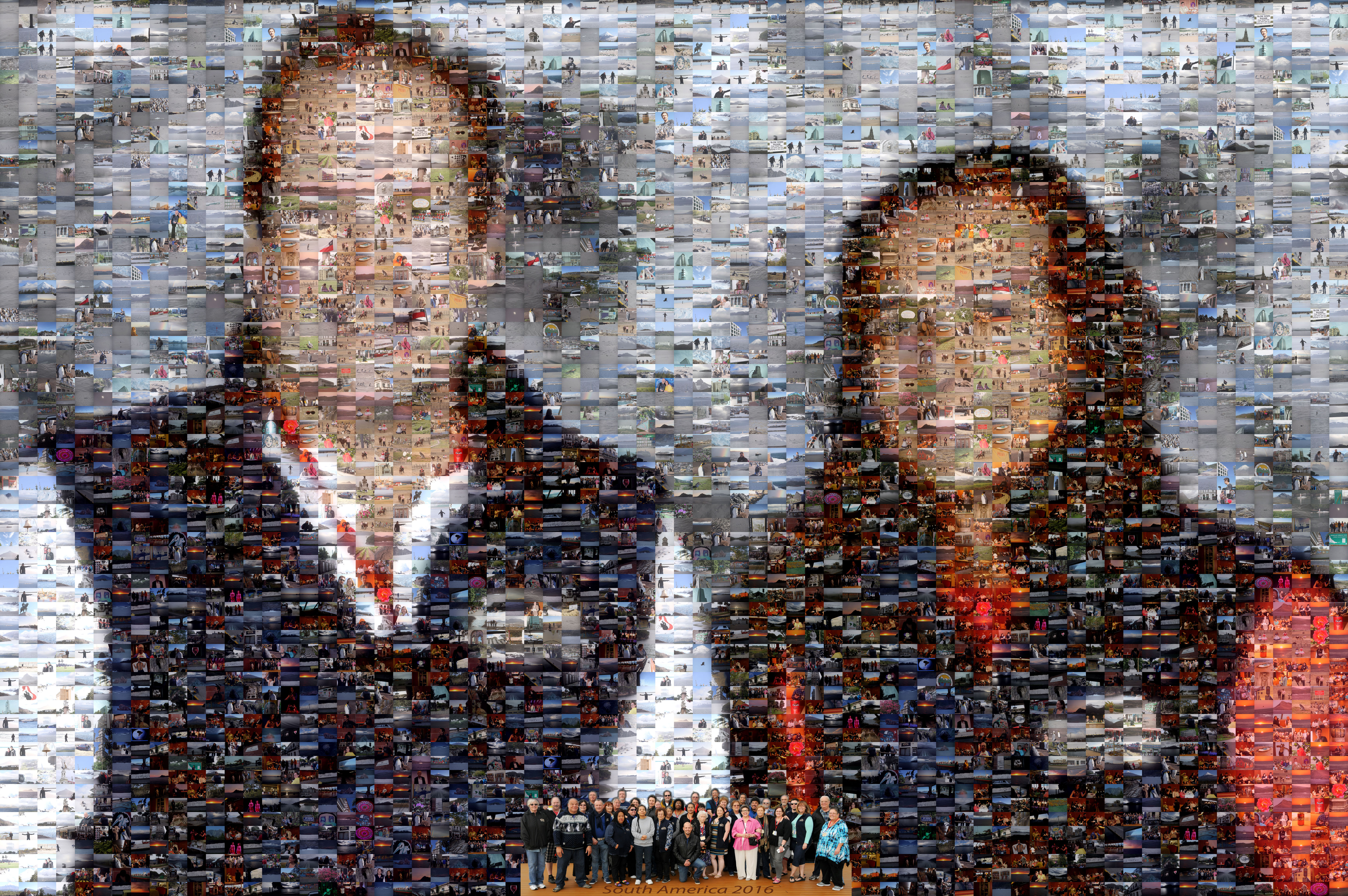 CT Family member Brent Stein created this mosaic using photos he took on the South American cruise in 2016. To see the details of this mosaic, click on the image – a much larger version will open in a new window. Interested in how Brent created the mosaic?
Find out more below.
Dated: Holidays 2009
Hello Everyone –
I hope this greeting finds you well!
As we near another year's end, I wanted to take a moment to reach out and extend Happy Holiday Wishes to the entire Cruise Trek Family. Each of us have become part of a very unique group and even though there is no ancestral bonds beyond our love for Cruise Trek, we each have become members of a very special Cruise Trek Family.
I think that Rolf captured it 'spot-on' in his piece "Where no Travel Writer has Gone Before", saying:
. . . I'm impressed by the diversity of the group that has assembled here: not just male and female, urban and rural, black and white, but conservative and liberal, gay and straight, introvert and extrovert, religious and athiest, healthy and handicapped. Office workers rub shoulders with retired soldiers, shoe salesmen with physicians, businessmen with the unemployed. The charm isn't that these people share a love of "Star Trek", but that – apart from "Trek" – they don't necessarily have all that much in common.
Sounds like a Family to me!
Through Rolf's self-proclaimed glib (at times) pronouncements about experiencing Cruise Trek as an outsider – he did acknowledge how much of a family we had all become – even though he never officially called it out in print.
My Mother used to tell me growing up that we could never have enough Family – there were six of us kids in the family – so I should have believed her then! Now, as I get older (maybe it's the 50's-bug?) I find that my Cruise Trek family has become just as important to me as my real family and I wanted to acknowledge the group, and wish everyone good tidings, safe travels, peace in your hearts, peace to those close to you, and much love this Holiday Season!
Some of us have exchanged greetings already and thanks to those of you that have sent cards – I didn't get around to it this year, so this is the card I would have liked to have sent, had I taken the time!
May you all be safe and happy until we meet again onboard at another Cruise Trek Event!
Happy Holiday's and Season's Greetings,
Brent
Roseville, CA
---
Dated September 2002
Hi, Barbara!
You didn't mention which cruise you are taking, but if you are going to Hawaii with us, I think there are a few important things that you need to know:
1. The most important is that even if you don't know anyone, you will automatically have 300 or so new friends! So it is good that you are getting on the list, because I think it will just increase the excitement of meeting the faces behind the names.
2. Fun is what you make it. . . Don't sit around waiting for people to entertain you. . . Cruise Treks are a huge adventure, and there is so much to do or not do. . . just relax and go with the flow. Enjoy the many fun Trek events, but also do some excursions! It gives you something to talk about over dinner.
3. The actors are almost always sweet and approachable. . . but just be yourself. . . talk about non-Trek things, too. . . be fun and approachable too and I promise you they will come to you too! . . . So make conversation! Have drinks! Have FUN! [And besides the actors are just the proverbial "icing on the cake" to everything else that happens]
4. Bring your dancing shoes and try to stay up late. . . as Eric, Deb, Charlie, Caroline and others can attest, the most interesting things happen at the disco! Take a nap during the day if you have to and definitely get plenty of rest before you leave home!
5. As was mentioned before, collect handshakes! Sure photos and autographs are cool momentos and I hold nothing against anyone for collecting those, but handshakes can never burn in a fire, get lost, or get ruined by airport x-ray machines. And if you do like photos, the best ones are fun, relaxed candid photos.
6. Pack versatile clothes. . . if you can get one, a sarong can be worn many ways as we learned in Tahiti. . . wear comfortable shoes on the excursions, and even if they say one is provided. . . take a travel iron! There was quite an iron famine on one of the past cruises.
7. Remember tips #1 and #2 and you should be fine!
Good luck and welcome to the family!
7-time Cruise Trekker,
Lydia
This is my first cruise, and therefore my first CruiseTrek. . . What do I need to know? Thanks!
Barbara
---
Dated October 2009
We have never before been negative nor do we try to hurt anyone's endeavors. However, we simply wanted to let our friends know the below so that one could decide for oneself about other cruises. And well – the below does help to form the necessary questions for any and every cruise or vacations under consideration.
From anonymous CT family member
Hi,

Yes, [companion] and I went on the Star Trek cruise out of LA and we had a good time, mainly because we had each other and it was to ports we had never visited before.

As for the other company, they were a disgrace! [Producer] in Florida did a terrible job in planning the event. Most people, including [companion] and me never received tickets or info about the cruise or our rooms on Royal Caribbean till he emailed us 5 days before we sailed. Everyone called, e-mailed, etc. and if you caught up with him, you got the run around. I was calling the Florida BBB to report him, thinking the company was a fraud and had stolen our money when I got his email with the correct registration number. (He had given me the wrong number the previous day in a phone conversation when I told him to give it to me and save an email, knowing he never followed thru with emails.) Only when we all got together on the ship, did I hear similar stories from the rest of the people.

There was only around 20 people who booked the tour. [Companion] and I had decided to do the cruise because of the ship, the ports, and the planned stars (Tim Russ, Alan Ruck, Marina Sirtis) all stars we had never sailed with. Well, none of them went. Also a mystery to solve was promised. The mystery we learned after boarding was cancelled.

We had no planned itinerary when we got on board and did not receive one till 2 days into the cruise, which was inaccurate. We would go to an assigned place and the ship would have something else going on and Sky Conway (the guy in charge of the group on the ship) would have to reset up another place. We asked the front desk about Star Trek Cruises when we boarded and they never heard of them. (Learned later we were listed as Holiday Cruises).

[Companion] and I had decided before we went that we were going to have a good time, even if no Star Trek stuff took place. . .

Sky had told us the Stars would autograph our photos, which they did, but never announced to everyone they would charge us, so people got up there with no money and had to run back to their cabin. (I had money because I had my doubts, but he should have been up front about it so people were unhappy with that).

CT includes complimentary autographed photos.

Sky Conway, he just showed his movies every night. Except he did have a copy of JJ's Star Trek so we watched it too on board and talked about it. Sky, by the end, I felt tried to do his best with what he could do, but the thing was such a mess.

[Companion] and I told everyone when we could if they wanted an organized, honest Star Trek themed cruise, they should look up Cruise Trek. Some were very interested in the Mediterranean cruise next year.

[Companion] and I had a blast at the ports, on our own, and liked the Royal Caribbean ship. . .

Don't worry, [companion] and I aren't looking to jump ship from Cruise Trek. You are our family and stuck with us. We just wanted something to do between May '09 and Oct '10 and this looked interesting.
Talk to you later,
Long Time CT Family Member
---
About the Mosaic ~
Of the 1,956 photos in the album of photos he took during Cruise Trek 2016: "The South America Passage" (March 20 to April 3, 2016), Brent Stein used 1,770 images to create the Cruise Trek Family mosaic above. Here, Brent describes the process.
"I will use this as the mosaic model – using my entire catalog of photos from the South American cruise. Target size is 48 x 32 for best image results. I also wanted to use a metal medium for the final print.
"I wanted the group photo added just to make sure that everyone was included whom were on the cruise, and I thought it would make a nice touch (insert approx. 1/32 of total scale).
"Cut / trim for size / remove background and resample using transparency layer / added feathering and added text."
To see the individual images in the mosaic, click on the mosaic above, and a larger image will open in a new window. Then zoom in on the mosaic – and prepare to be amazed!
Good job, Brent!