About Cruise Trek and Our Special Guests
Cruise Trek is your best choice for a Trek-themed cruise adventure – a unique convention and vacation all in one! Explore bold new worlds and share the experience with Cruise Trek family and friends as you cruise with your favorite actors who have appeared on science-fiction TV series and movies.
Cruise Trek passengers generally range in age from 2 months to senior citizens, and come from all walks of life – from students, secretaries and housewives to lawyers, doctors and corporate CEOs. We've even had lottery winners!
Event passengers come from as far away as England, Germany, Spain, Australia, and the Phillippines, as well as all over the United States and Canada.
While the demographics of this group are diverse, we all share a commonality – our love of science-fiction, which creates a very close bond.
---
~ Cruise Trek – The Ultimate Trek Adventure Package – Includes the Following ~
| | |
| --- | --- |
| Premier Accommodations | Breakfast with Guests and Actors |
| All Meals and Entertainment | Autographed Celebrity Pictures |
| Bon Voyage Cocktail Party | Q & A Sessions with Actors |
| Photo Session with Actors | Custom Trek Games |
| Commemorative Shirts | |
~ Other Available Services ~
Trek Share Program for cabins can match you with fellow fans
Special fares for kids
Payment by Visa, MasterCard or American Express
Interest-free payment plans
Airfare, hotels, and tours available
~ Note ~
Passage must be booked through the Cruise Trek office
to attend all Cruise Trek events.
---
In 1992, we sailed to Mexico with a "Tribute to Trek Fans". Since then, our trips have included ~
---
Thanks for the Memories!
Our Cruise Trek adventures have included the following actors and behind-the-scenes guests ~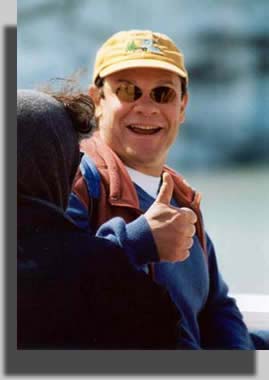 Ethan Phillips gives a hearty thumbs-up for his Cruise Trek experience.
Marc Aliamo
Vaughn Armstrong
Rene Auberjoinois
Casey Biggs
Richard Biggs
Julie Caitlin Brown
Denise Crosby
Robin Curtis
Roxann Dawson
John de Lancie
Jonathan del Arco
James Doohan
Max Grodenchik
Jerry Hardin
Jennifer Hetrick
Dominic Keating
Walter Koenig
Mark Lenard
Eric Menyuk
Ethan Phillips
Robert Picardo
Suzie Plakson
Andrew Robinson
Majel Barrett Roddenberry
Tim Russ
Armin Shimerman
Carel Struyckyen
George Takei
Garrett Wang
Wil Wheaton
Patti Yasutake
Ronald B. Moore
Karen Westerfield
Lolita Fatjo
Eric Stillwell
David R. George
Bob Gillan
Richard Arnold
Then there is always our fun loving staff ~

Lydia Lopez, Dee Brake, Bryan Brake, Kevin Dickson, Curt Duffy, Diane Jewell, Bonnie Roach, Charlie Datin, Carolyn Peters, Fiona Ritchings, Trey Carr, Brent Stein, Steve Gidlow.
~ Cruise Trek on Facebook ~

A good place to discover what Cruise Trek is all about – is the Cruise Trek Facebook page. There you'll learn (and hear a few good tales!) more about Cruise Trek experiences, adventures, friendships, romances from past cruises and you can even learn of future travel intentions. It's also a perfect place to keep in touch with the Cruise Trek Family.
---
Testimonials ~
A few comments from our Cruise Trek friends and family ~
Lisa from Louisiana says, "Everything was wonderful! I had so much fun, it made me want to pinch pennies. . . and return [again]!"
Suzanne from California writes, "Thank you. Thank you. Thank you! I didn't think it was possible to top last year's Cruise Trek experience, but you did! The only unfortunate part of the entire week was having to come home to our boring old lives."
"[Cruise Trek] has just the right amount of balance between the ports, Trek events, and ship programs. An excellent job!" writes William from North Carolina.
"Everything was so well organized," says Denise from Arizona. She says she enjoyed the "opportunity to personally meet the actors and behind-the-scenes guests as opposed to seeing them on a quick basis at a [land-based] convention."
"Bravo!" writes George Takei, "You make cruise organizing an art of the highest order. Thanks for a wonderful experience. And ditto from my mother."
"I would like to take this opportunity to tell you how much we enjoyed Cruise Trek. It was a wonderful experience and our only regret is that we did not go on the earlier cruises," says Sally from Virginia.
We hope you will join us and find out for yourself how fun and exciting a Cruise Trek adventure can be!
~ Need Travel Insurance? ~

One option is Trip Insurance. There are many other choices, but we offer TripAssure for informational purposes. We also send their application with your booking confirmation.