Archive for Past Cruise Trek Updates
Update – January 20, 2016:
Cruise Trek 2015: " The Caribbean Oasis" & Kennedy Space Center Tour
Reflections, Quotes & Acknowledgements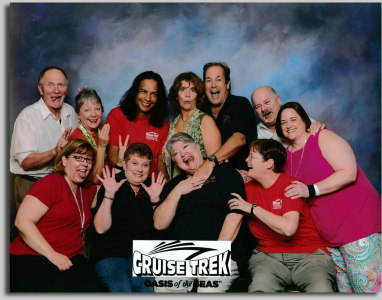 The hard-working helpers of Cruise Trek 2015.
Thanks, guys! Great job!
Hey there, CT Family!
Robin Curtis shared her thoughts with us (see below in quotes), and it really says it all. But, first there are a few other acknowledgements and quotes I would like to share. Of course, there may not be a correct way to express all of these thoughts, other than to simply let them flow. . .
Dave Westbay exemplifies all that we are . . . He says, "But first, let me say again how much Pat and I enjoyed this year's Cruise Trek. As I said at the end of the trip, this was one of my favorite Cruise Treks, and that is mostly because of how wonderful all of the people in our groups were, especially (but not only) the guests, from both Trek and Back to the Future. Everyone was very approachable and gracious, and that makes for a most enjoyable experience."
Dave also mentioned of the "greater bond" so very evident on board. Even though we all noticed how gargantuan the ship was, the closeness felt definitely overwhelmed anything that was even slightly seen as a negative. I totally agree.
And then for me, my memories were of Al's (one of the Purvi) ditty at one of our event sessions; Dee's version of "Hollywood Game Night"; Nat's (the other Purvi) Murder Mystery; Brent and Joni's all-knowing kindness, smarts, and unfailing assistance. Andrea, you are an amazing friend.
And of course all the energetic, wonderful players in the Cruise Trek Family helped to perpetuate the mission/trek to explore & enlighten within a family-friendly environment, which also emphasizes commonality & comradery. Indeed, we may not be huge, but we are intimate, personal, and caring in a space where everyone matters. Thank you for all.
Additionally, my personal thanks go out to Dom, Vaughn, Robin & Lolita and every one of you that bring the energy to make it all happen. . . I can simply ask for no more.
Then to Jeffrey Weissman and his lovely wife Kimbell Jackson. and the Back to the Future event we combined with on this last cruise. . . You are the kindest and most sincere producers I have ever worked with. Thank you!
~ Do You Need Travel Insurance? ~
Cruise Trek offers TripAssure™ as an example. Click the image below to be taken to the TripAssure™ website:
And to share a few very appreciated words of theirs. . . "You and Aaron have worked so f****** hard for this event. . . You and Aaron are truly wonderful gifts to us. A thousand thanks to you, Charlie. You made us look good. I can't tell you how much I appreciated your support and wisdom during the cruise. I did manage to have a really great time, making new friends and having a sense of accomplishment for my work. It was impressive how you ran a 'tight ship' and kept on the schedule."
Lastly, I want to recognize a very subtle piece of goodness that just hit me over the head on this last trip. . . In fact, the care & respect involved touched me to my very soul. Al and Jason – I think you were a big part of it. . . Just the offer and/or expression of care to help clean up our meeting spaces. . . that care and sensitivity was certainly appreciated more than I could ever express.
Now for Robin's note to us. . .
Dear Charlie and Aaron,

I look back over 2015 and I have to say, sailing with all of you and having that experience with the fans was one of the highlights of my year, for sure. Thank you for including me in a group of troopers: the guests, fans, and staff as well as the two extraordinary gentlemen that make it possible. Everybody brought their best self and game to the experience and it came out in the many shared and joyful moments.

I just beam inside when I think of all the games, even the late night games. . . I enjoyed those tremendously. I loved dining with everyone, shaking up the tables some nights and getting to make new friends. I loved the way we shared the journey with the Back to the Future folks, what a great bunch. I learned more about the DeLorean car and the background of the BTTF movie than I ever knew before. Pretty cool stuff. ;-)

And of course, I got the biggest kick out of everyone doing the Fanfare. That was so much fun and I'm sorry for all the angst and upset I caused you in the process.

You both created an amazing experience for everyone and I thank you with all my heart for including me. And I wanted to be sure to also thank you for the check you sent. It wasn't expected but it was so appreciated. I send my best wishes to you for a spectacular 2016, filled with adventure, solid real estate investments ;-), excellent health and calm heads, hearts and waters.,

Happy journeys and much love till I see you again,
Robin
To enjoy Robin's CT 15 Fanfare video on YouTube, just click this link – Cruise Trek 2015 Fanfare.
---
Update – May 31, 2015:
Hey, Cruise Trek Family,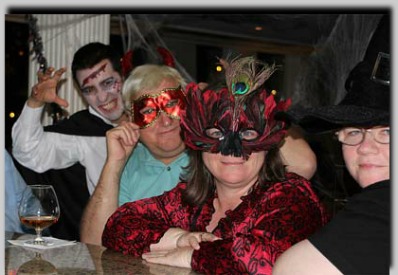 IDIC – Infinite Diversity In Infinite Combinations – as demonstrated by Cruise Trek Family members sharing the fun and camaraderie of celebrating Halloween in Paris on the 2013 Seine cruise.
Our last printed version of our Update had loads of information for our next two events for CT15 & CT16. So in this piece we have kept things a little more simple with additional and/or new information to provide. From our home page, you can navigate to links for the itinerary descriptions (CT15 or CT16) and the booking information sheets (CT15 or CT16). Or just give us a shout and we can smail you the printed info.
Most important for everyone to know is that we have extended our discounts for both of our future events to August 1, 2015. Though, as always, it is best to book ASAP to ensure cabin ideals and perhaps any potential extra "goodies" for CT 16.
For sure, "The Caribbean Oasis" cruise this year will be just a total blast! There is so much activity and fun to be had. . . that you'll simply have difficulty picking and choosing. . . Oh but then you can, of course, just relax and enjoy all with the CT and the newly-acquired BTTF family! – especially as we do have several days at sea!
And as we have said before:
Besides the usual resort-like facilities, there is a rock-climbing wall, a zip line, an ice rink, and an outdoor aqua theatre. And in addition to the legendary and more progressive entertainment provided by this cruise line, our ship offers groundbreaking design with seven distinct neighborhoods built for ultimate enjoyment and entertainment: Central Park, Royal Promenade, Boardwalk, Pool & Sports Zone, Entertainment Place, Vitality Spa & Fitness Center and Youth Zone. Of course, there's also all that CT provides for activities.
That all said, the first new item to announce in this Update is that on the "The Caribbean Oasis" event for November 2015, we will also now have a "Back To The Future" event on board that will be accessible to all CT event attendees – you can see www.bttfcruise.com for more info. The larger part of this opportunity is that the BTTF folks are another group of very kind, generous and fun people with which to experience the common synergies and camaraderie of fandom.
Secondly, we now have a Fort Lauderdale airport area hotel set up for our pre-cruise stays. Please know that this hotel is more of a function than a destination as our cruise event is the main attraction for this itinerary. It is newer, nicer and provides good value as many other hotels in the area are much more expensive.
~ Are You On the Cruise Trek Mailing List? ~
If you have joined us on one or more Cruise Trek adventures or you are currently receiving eMail or Snail-Mail from us, we have you on our mailing list.
But if you're not already hearing from Cruise Trek and you would like to learn more about upcoming events, please sign up by clicking the link below and filling out the form.
Join the CT Mailing List
Cost for same is $179.00 per room night including taxes (sgl or dbl). Your requested hotel stay will be added to your invoice and is payable by check at cruise final pay date. Cancel fees apply at 30 days prior to arrival. Additional room nights may be at a higher cost.
This hotel, which will be named at a later date, also has a courtesy airport shuttle that operates between 5 am and midnight. Currently you will need to call the hotel for pick-up. Our hotel will also have a transfer available to the pier for $8.00 pp. However, this must be signed up for upon arrival at the hotel.
No worries on all transfers as taxis are plentiful and reasonable in cost as we are not too far from the cruise port and airport. In fact, the pier is only & approximately 6 miles or 10 minutes away. Please know most of us are only coming in one night early unless we are touring Florida more than just the KSC tour or attending the FTL film festival. . . more info below on same.
Thirdly, the Kennedy Space Center Tour attendees will be also staying at this very same hotel. And we will arrive Friday night, November 6th. Depending upon final arrival time, we may join one and all for a pre-cruise wine & beer party by the hotel's pool. Once again, a chance to break bread with all our friends and family of Cruise Trek! We'll provide some platters of munchies – but you'll have to buy your own drinks.
Please know that if you want to add the above KSC package, we've still got space!
To add any of the above, please send us a note or an email and we will take care of all! ;-))
Another cool item for this November's event is that the Fort Lauderdale Film Festival opens November 6th. You can see info for same at www.fliff.com. Though it is my understanding that the festival schedule will not be available until October 1.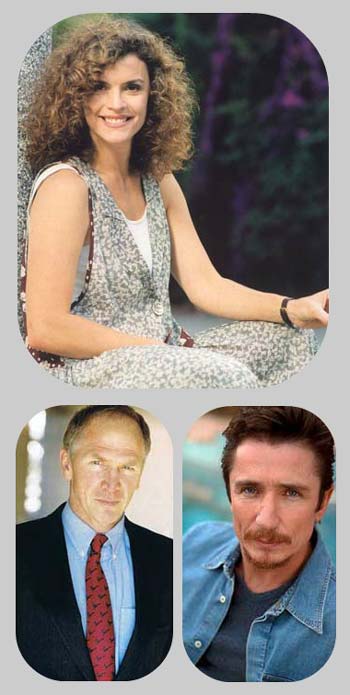 Robin Curtis, Vaughn Armstrong and Dom Keating will join us on our CT 2015 Adventure!
As to actors, so far we have once again one of our favorites, the wonderful and very friendly Vaughn Armstrong with his lovely wife Christine, and the ever fun & energetic Dominic Keating. Plus, of course, the lovely Lolita Fatjo will be with us as well. . . and we are working on one more . . all subject to change.
Please go to IMDB.com for more information on our guests for this event.
Now to Update Cruise Trek 2016 – South America – If you want to totally expand your perspectives of our planet and if you have the ability, please join us on this magnificent and culturally enriching experience that one could ever possibly enjoy. Again, you can either participate in the 14-day or the 34-day segment(s). The latter of which, several of us have already opted to share together.
South America is definitely a whole other world. . . and filled with sights and experiences that will for sure present stories and memories for a long long time. . . Cape Horn, the Falkland Islands, the Chilean Fjords, the rugged mountains of Patagonia, the Argentina's Gauchos and all the other local color and culture. . . all just wonderful!
After having previously experienced South America, I am seriously looking forward to going back once again! The beauty, the people and the numerous cultures are wonderful and inspiring. Experientially, it is a tough one to beat!
Plus, flights are really very reasonable in cost and schedules are not difficult to/from South America. We just recently quoted $900pp from Dulles to Buenos Aires & back from Santiago. In any case, flights are all pretty straight forward and not any more complicated than many of our other far-away journeys. Additionally, our ship overnights in Buenos Aires for one night, which offers flexibility for arrivals. Though we are certainly planning on coming in a few days earlier to experience the local color. . . then Santiago is even more extraordinary!
And if you want to stay after the cruise, we have a great spot in mind. Or you can fly right home if you prefer. Or if you have even more time, sail the entire 34 days with us back to San Diego!
From a previous flyer we wrote the following about South America:
This is yet another Cruise Trek Adventure quite different than what we have done in the last 20 + years. . . It also offers another ship perfect for the setting, featuring a perfect passenger space ratio to allow us to individually and soulfully take in all that this itinerary has to offer. We will be following some of the historic sea route covered by Magellan and Darwin.

This is some of the most dramatic, unspoiled landscape on earth – and not many from our region have had the opportunity to set eyes on it. In addition, this cruise features speakers providing expert presentations on the region's geographic formation, biological development, and human history. This cruise offers plentiful days at sea and a very relaxing port pace.
Kindly,
Charlie
Travel safe and well. . .
PS
On our home page, we have added a couple new links for past CT Family guests – one for Jerry Hardin for his Bone Sculpture and the other for his lovely wife, Diane Hardin and the Joy of acting. Please check them out and tell them Cruise Trek sent you! ;-)))
---
Prev Page | 1 | 2 | 3 | 4 | 5 | 6 | 7 | 8 | 9 | 10 | Next Page